User Manual for Hismith APP controlled Sex Machine
After reading this manual, you will have a comprehensive understanding of Hismith APP and get more fun from APP sex machines.
Click here to download the manual in doc..
You can buy this Hismith APP controller which has a signal receiver and a smart chip to update your Hismith(HS06, HS07, HS08, C0140, C0636, C0634) to APP version.
Table of Contents
Click the blue font to jump directly to the corresponding content
Download
Scan the QR-code below, Download and install the Hismith-APP on your smartphone from the APP Store or Google Play. Or go to download page: http://app.hismiths.com/download
Account and Settings
Create an Account:
Enter a valid email address and choose a password. You will receive your verification code in your mailbox. Finally, check the box to agree to the terms of service and complete your registration.
Third-party log-in is supported, you can log into the Hismith-APP using Apple ID, Facebook, Twitter or Google accounts.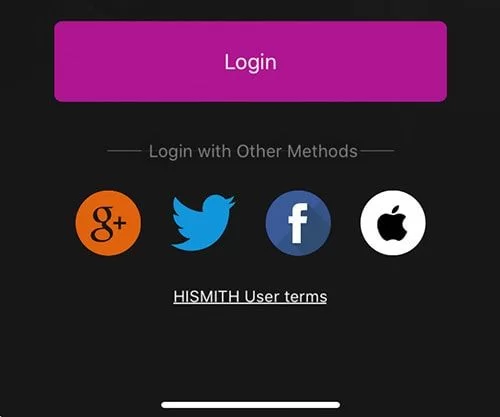 Filling out your Profile:
You can upload up to 6 photos.
Set your nickname/pseudonym.
Leave your voice signature.
Complete your personal information.
Note: Your personal information is private and safe, and not visible to other users. Your phone number will be used for account security.
Connect to Your Hismith Device
Open the Hismith-APP
Click the Bluetooth icon on the top-right corner
If your phone's Bluetooth function is not switched on, a pop-up will appear, asking you to allow the application to connect to your Bluetooth. Select Allow.
After switching on your Bluetooth function, the app will automatically look for your Hismith device. Select it, and press the "connection" button.
When the connection is complete, the "connection" button will turn gray and a note will appear that confirms that your app and your Hismith device are now connected. You are ready to play.
Tips:
The app will automatically connect to your device next time you log in.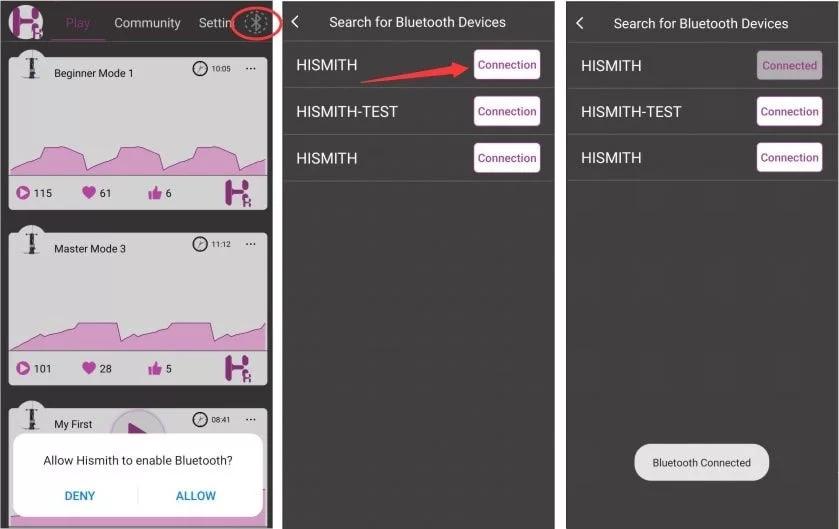 Solo Play Mode
Swipe your finger up or down the screen to adjust the speed of your device. Increase speed by swiping upwards or swipe downwards to reduce speed. Swiping can adjust the speed by up to 20% per finger. To more quickly adjust the speed, you can use additional fingers in your swiping motion.
Tips: 
Flip over your phone to immediately stop your device. Flip it screen-side up again, to resume its original speed.
Shake your phone to use the power boost-function (when you're about to cum). It will boost your device to a super high speed. Press any button to return back to previous speed.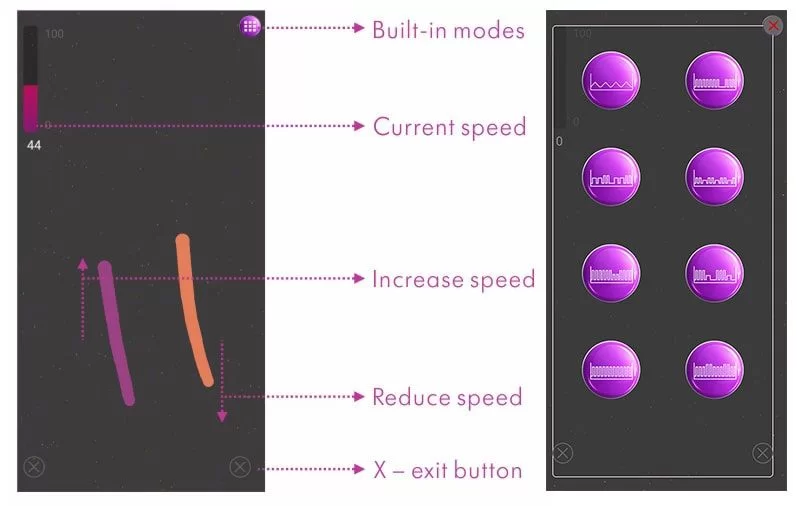 Built-in Thrusting Patterns:
Click the icon on the top right corner to unfold the built-in thrusting modes. We advise you to familiarize yourself with these thrusting patterns before putting them to use, to decrease any risks of unpleasant situations or injury.
Note:
Different devices may have different built-in modes. These images are used for reference only.
Remote Play Mode
With Play Remote, you can share control of your Hismith device, by sending a link to that significant someone. Generate your link and send it through Facebook Messenger, Line, Whatsapp, We-chat or find someone to play with within the Hismith App itself. Play Remote can add a new dimension of intimacy between you and your partner, even from the other side of the world.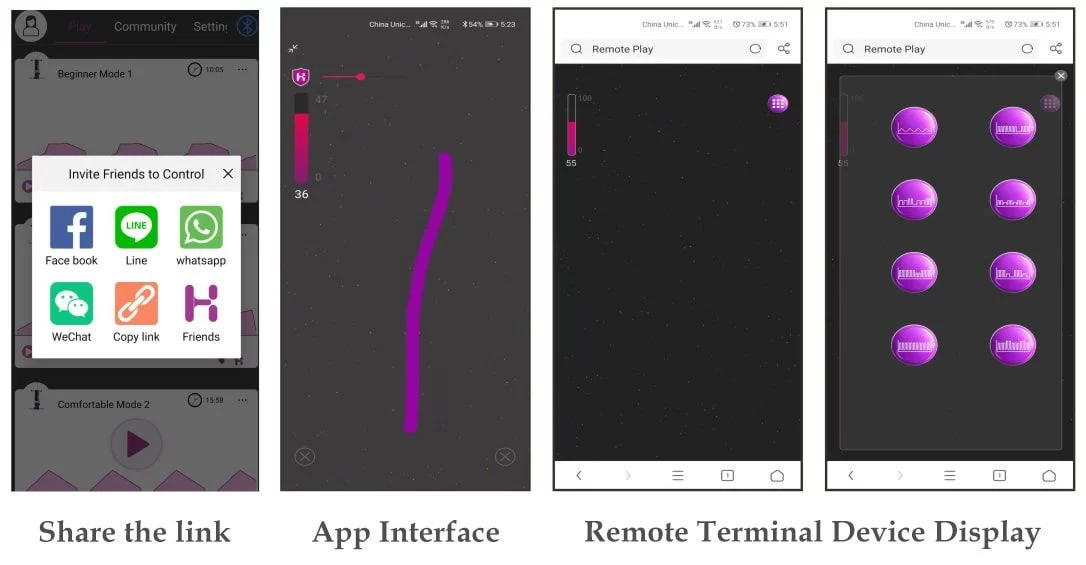 Note:
When your friend connected your device successfully, they will get a interface above, it is exactly the same as the interface you using Play Alone
You are able to set a maximum speed on your Hismith Device. The person controlling your device will not be able to exceed the chosen limit, to ensure your comfort. You can set this limit anywhere between 0 and 100%.

You can override the person controlling your device at any given moment, by (manually) adjusting the speed of your Hismith device as you normally would, by using your remote control, speed control box or buttons on your Hismith device.
WARNING: Please present the max speed before using it under the remote play mode to avoid being hurt by unexpected thrusting speed.
Customize your own play modes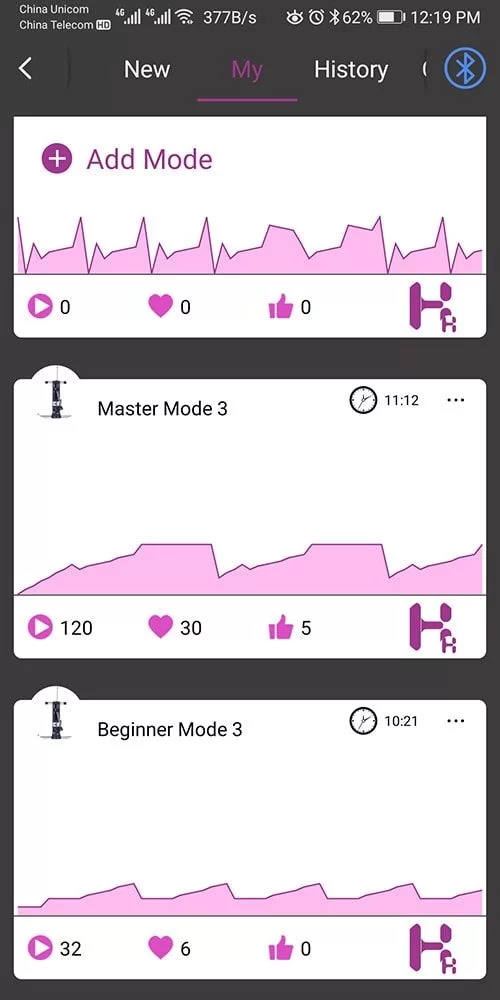 Top: Explore the community's most popular posts
New: Newly released posts
My: Share your own creations in the community
History: Remembers a play mode for you when played over half of its duration
Collection: A collection of all play modes you created and saved
WARNING: If it's your first time using a new play mode, please do a "dry-run" first to familiarize yourself with it, to avoid any unwelcome surprises.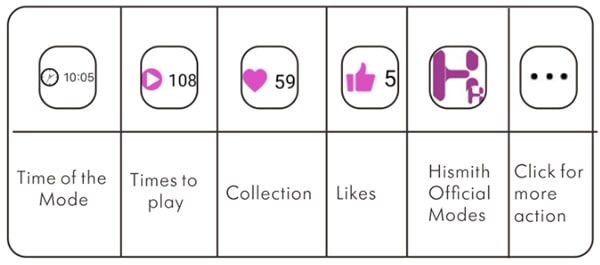 Create Your Own Play Mode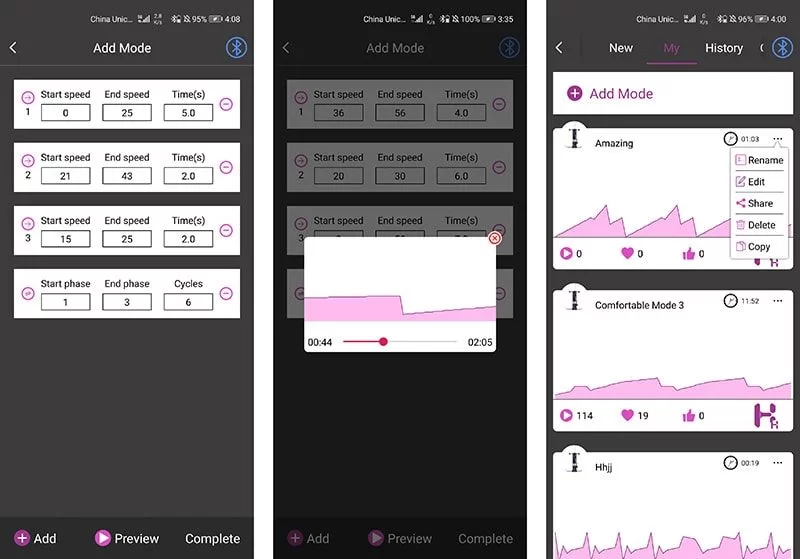 Add speed ranges and run time.
Set the cycle index to your liking.
Preview it, name it, or share it within the Hismith APP.
Preview the mode you created.
Complete it and enter a name for your mode.
Once completed, you can: rename, edit, copy and share it.
Tips:
If this is not for you, that's ok. You can also simply try the creations of other users, and collect the ones you enjoyed.
You can also use and collect play modes made by other users, and leave your feedback.
Play Online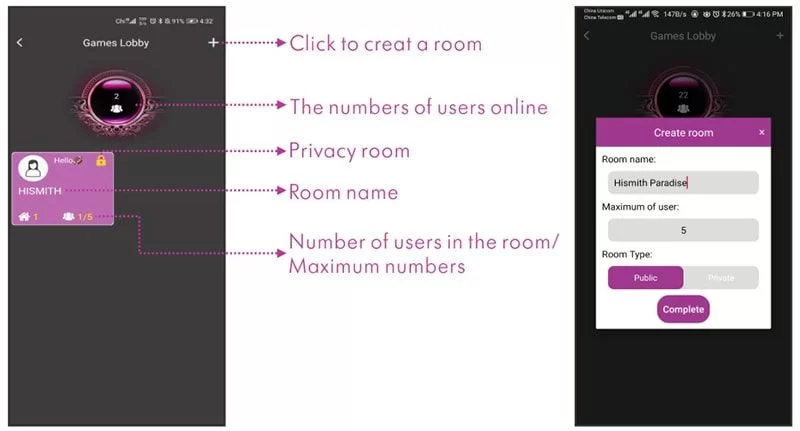 When you join a lobby, the number of people online are shown in the circle.
Find a public room, join in or create your own room.
The room owner can control all members' device at the same time, or transfer control to other participants. Group members can ommunicate with text and voice chat, but of course this is completely optional. You can also hide the text chat or block all voice chat.

Set the room name.
Choose the max. number of users. (range 2-5)
Choose between a public or a private room.
Public room: No application is required.
Anybody can enter this room.
Private room: Request to join room first. Only those invited or accepted by the room owner can join.
Tips:
Once a room owner rejects a user access to their room, the user will be blocked from sending additional requests, to prevent spamming.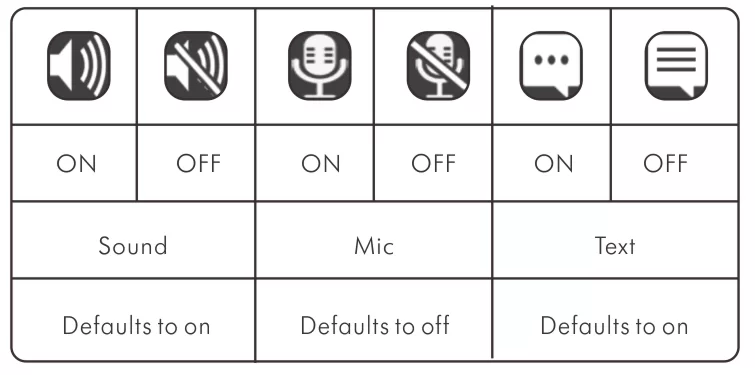 View of Room Owner: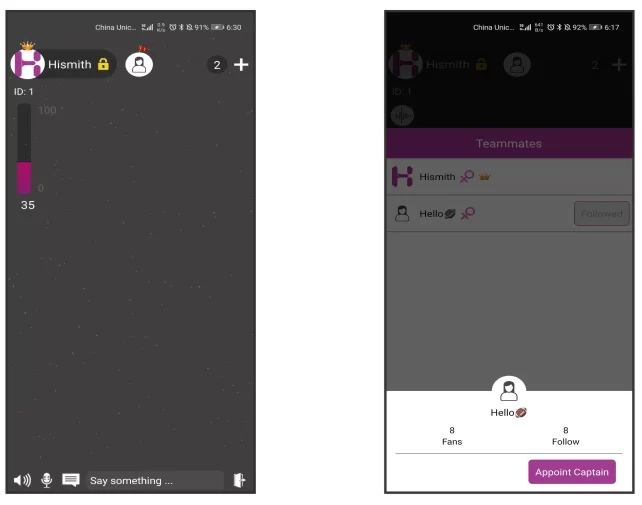 As the room owner, you can grant control to other participants, which is shown as a flag icon. The room owner can retake control at any moment.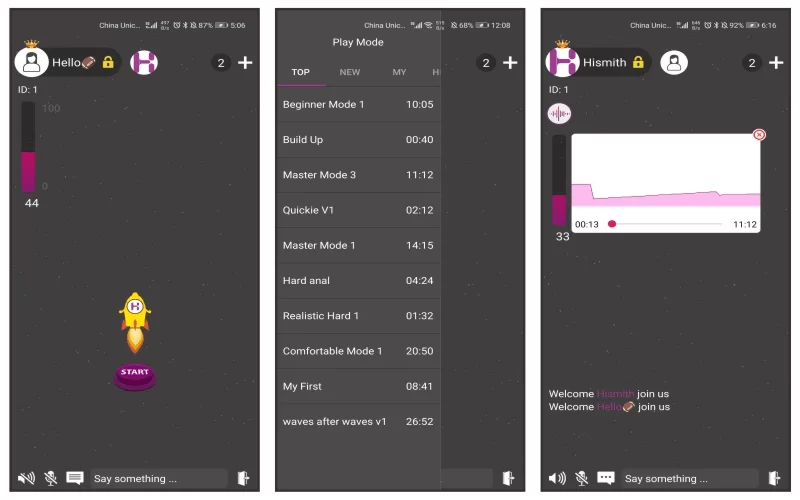 When you join a room, you will see the following information:

 Shows the current speed

 Start the game, when you' re ready to play

 Choose from play modes in your collection

 Invite others to join your room

 Exit the room/Quit the game
CAUTION: Make sure you and your device are prepared and ready to play, before joining a room.
We recommend to adjust the thrusting speed in small increments only and to turn on (voice) chat in order to be able to communicate your wishes within the group, to ensure a pleasant experience for everyone.
Important Notice & FAQ:
Hismith reserves the right to revise or update this APP for improvements without obligation to notify any person of such revision or change. If you have any feedback for us, or want to report an issue, please contact us through support@hismith.com. If you have any questions or concerns regarding the security of the app and your data, please email us at safe@hismith.com.
Is my data protected?
We take your privacy very seriously. We have designed our system to record as little information about our users as possible. Every byte of your data that passes through our servers, including your text, picture, and voice messages, are fully encrypted using the same data encryption technology as Google, Skype, Face-time, and other industry leaders.
For more details on this subject, please check the Hismith user terms and privacy policy.
2020 Hismith. All Right Reserved by Shenzhen Hismith Technology Co.,Ltd